Swarmed by
Jan08 '04

277 things

7770 rads

When I lived in CT, going to Wal-Mart on the weekends almost become a ritual for me. However, it was only over this Christmas Break that I began to realize how many archetypes there are for Wal-Mart customers. I've decided in the interest of zoology to record my findings about some of the more interesting specimens that can be found at your local retail giant.
I feel like Darwin.
BEHOLD: The Bestiary
<center>
</center>
These little meeps/ettes have got to be one of the most annoying specimens in the history of Wal-Mart. They can inhabit all corners of the store, but there are some specific stomping grounds they much prefer. The perimeter of the toy aisle is generally the epicenter of activity. It's like they instinctively know to use their small stature to cause you to trip over them as they frantically dart out from the corner of an aisle into a main walkway. It's always when you're carrying something unwieldy too, like a chais lounge, an 28 lb. bag of peat moss, or one of those DELUXE George Foreman grills that looks like a UFO.
The second regular haunt for these little imps is the videogame section. What seemed like a great idea (allowing customers to test games before they buy) quickly degenerated into a makeshift daycare center. The children? Plentiful. The babysitters? Mario, and that creepy employee with long hair in the MegaDeth tee shirt. I'm a peaceful man, but I'm not above tossing a child 15' through the air headlong into a wall unit of stereo equipment if it means I can get an XBox game 30 seconds quicker. At least my parents were savvy enough to only let me indulge my video game obsession at home so no one would know that thanks to Nintendo my life was a meep mess at age 10. I'd like to think I'm a better person for it.
Perhaps the scariest part is when one stops to contemplate where the parents are, and if they ever existed at all! I decided to get concrete proof that Wal-Mart wasn't raising a swarm of mindless lower-middle-class capitalist drones controlled by some strange hive-mind centered in the home and garden dept.


While shaking the child violently by its ankles I was able to extract some valuable information from it.
ME: "WHERE THE meep ARE YOUR PARENTS!?!?!!!"

THE WAIF: "My mom is buying Slimfast and oversized Maxi-Pads, and my dad is buying truck tires and some American flag placemats! Please stop! You're scaring me!!!"
HAHA! Biting social commentary.
<center>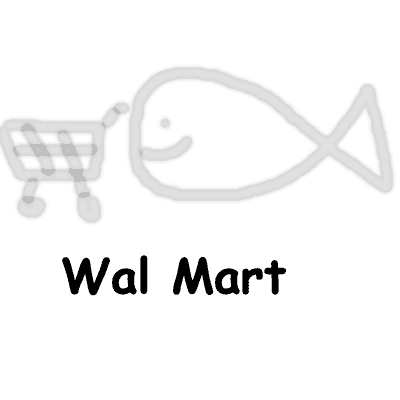 </center>
I was going to use a picture of a real fat person up above, but the crudely drawn image of the whale pushing the cart seemed like a good metaphor, and it made me feel slightly artistic.
If you've been to Wal-Mart, there's a good chance you've had an encounter with a rude fat person. Scratch that. I don't care who you are, if you've been to Wal-Mart you've HAD an encounter with a rude fat person.
Maybe your first encounter with these creatures was similar to mine. You're minding your own business, purusing items while taking up one human being's worth of space when all of a sudden the very foundation of your world was rocked by something that looked like a pale hippopotamus in a flower print dress.
Stunned by the ponderous form deliberately moving towards you, you foolishly make eye contact with it. It returns a cold gaze that seems to threateningly express "I'm powered by ham and ice cream cakes. I need to get to the refrigerated food section as quickly as I can or I'll run out of nitrates and cease to function. If you don't move right now I'll be forced to crush you under hoof or possibly envelope you into my overflowing girth."
What does one do when confronted with this situation? The thrill seeker might attempt to get an adrenaline rush by throwing a nearby item under the cart wheel or shoe of the gargantua and watching the ensueing chaos, not unlike witnessing the uncontrollable power of a derailed train. For those of us who are a little more sane, the best thing to do is shout "DON'T EAT ME! PEOPLE AREN'T FOOD!" and then immediately back out of its way. Be sure to close your eyes and mouth tightly so as not to be injured by any debris that might be kicked up as the behemoth lumbers by you.
Harrowing.
<center>
</center>
A lot of you probably know my theory that the elderly and mentally handicapped can be hilarious if placed in the right context. This is probably the Miss Universe of those contexts. There's nothing more perfect than a social misfit leading the charge to usher you into this fantastic cavalcade of insanity.
I think life would be much better if we all had our own personal people greeter. Mine would be a clown that stood outside the door of my apartment. Each day when I came home from work he'd hail me as the King of Saturn, open the door for me, and then punch himself in the face.
<center>
"We love you El Monstro Loco"
</center>
This is possibly the oddest phenomenon in all of the retail universe. No one knows why anyone in their right mind would purchase 15 lbs. of dried beans, nine 12 packs of generic orange soda, and 7 cases of transmission fluid. Or 26 dozen eggs, 34 liters of Lysol, and 23 steaks. They're undeniably aloof about the greater meaning behind the purchases. Glancing at the contents of their cart will only bring shifty looks and more squirrely behavior. The horde's ways are truly mysterious, but could they be sinister?
I believe that they might be buying Earth products in huge quantities so they can ship them back through a vortex to a parallel dimension where time and nachos are of no consequence. It's a dark place, and I hope I never go there.
<center>
</center>
I'll end this on the saddest and somehow tragically funniest (like when a clown dies) note by examining the one specimen you never want to be. The one that can never leave. EVER.
You can tell how long someone has been a cashier at Wal-Mart by looking at their eyes for telltale black spots where their soul used to be. Or you can cut their arm off and count the rings. I suggest the prior as it's much less messy and illegal. Another sign is the amount of bedazzletry they have adorning their name tag. The ones with the most are usually those who have completely given up hope and accepted their fate. They're usually sporting some sort of forced, meep eating grin on their face as well.
They patiently wait for the day of reckoning when the skies will crack open and the earth with heave and rumble. That's the day when they'll be summoned by Sam Walton to fight alongside him against God. There's will be a fearsome battalion armed with indignation, Slim Jims, and paintball guns. There will no mercy asked for, and none given.
Don't cry for them. They're already dead.
<! -- End #col3_content. -->