Swarmed by
Dec22 '03

277 things

7770 rads
By some horrible miracle, all the meepons on the soda vending machine in the breakroom now dispense Diet Coke. People think the vending machine technician messed something up, but I think we all know the real reason for the malfunction.
THE MACHINE HAS SOMEHOW BEEN POSSESSED BY HITLER'S GHOST!
<center>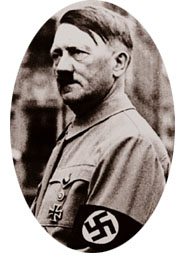 </center>
I don't know how this could've happened, but it has. Now this situation has become a personal war. It's not the first time I've had to do battle with a vending machine, but this is the first one associated with the Aryan Nation I've tangled with. Wish me luck.
Every sip of Hitler's Diet Coke is like razor blades on my tongue, but I can't stop until I finish it. To stop prematurely would be admitting defeat to the Third Reich. Churchill didn't do it, and I certainly won't either.
<! -- End #col3_content. -->